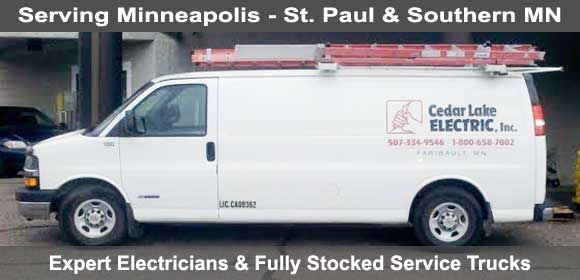 Minneapolis Electrician, Cedar Lake Electric provides full service:
Serving Minneapolis and Southern Minnesota with Lightning Fast Service

At Cedar Lake Electric we know what we can do. We have been doing it really well for over 35 years. The question is what can we do for you? What electrical services do you need?
Emergency Service?
Energy Savings?
Retrofit Lighting and Cost Savings?
Long Term Plant Maintenance?
Service Upgrade?
Dependability?
Combine your needs with our expertise in the electrical industry, and together we will determine the best way to get the job done. Whatever your needs, we will provide you with not only quality service but also products specifically designed to meet your personal specifications.
If you want to know more about us, give us a call. We will take the time to discuss your needs and answer any questions you may have. We are  proud of our qualifications, training and workmanship. When you work with Cedar Lake Electric, you will get the best the industry has to offer. Our guarantee is that your job is done the right way.